Investment Goals
I made a small investment back in September 2017. The market had just corrected considerably and I had bought my first Ether. With no clear goals, I experimented trading until I outperformed the market. Three months of researching and trading gave me the confidence I needed to begin planning for success. I continue to keep these points top of mind when deciding to sell or buy:
Play only with house money
Invest only what I am willing to lose
Do not over trade, bet on solid companies
Research, research, research
Portfolio Breakdown
Period: 9/13/2017 – 1/20/2018
Starting Capital: $541.97
Total Injections: ~$20,000
Overall Performance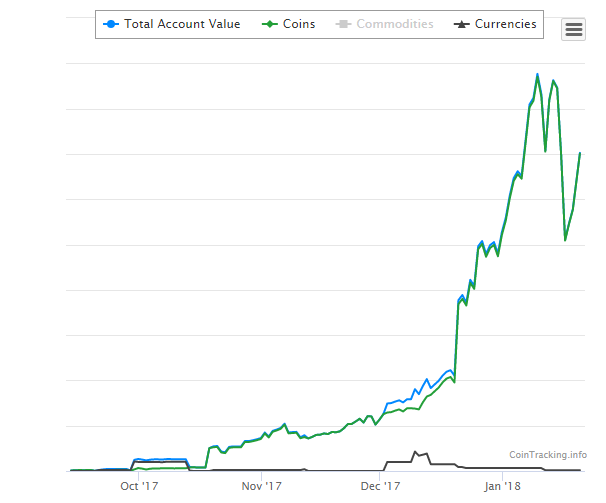 Growth:  873%
Total market performance (since first investment): 461%
Top 5 Positions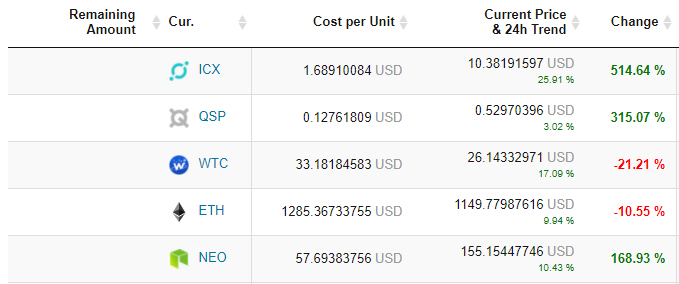 ICX: One of my best performing assets, and one I hold with an iron fist. I was tracking this company since it's ICO, following the hype, reading the whitepaper and taking notes when it was being traded on HitBTC as IOUs at almost $3.00 a token. On market release, I picked it up low and have held it since. I will continue to hold as I believe this token is truly undervalued. With it's main net releasing Q1, and potential market release on Korean exchanges, I expect strong performance past $15 before the end of the quarter.
QSP: One of my strongest positions. I swooped in during the market release on Binance after it corrected from pulling a strong 3-4x run up. This company is backed by YC and has made partnerships with other formidable companies. They recently released another partnership with Wanchain, an interoperability company, allied with AION and ICON. With such strong partnerships lined up, great token mechanics, and a strong community, I expect its growth to be ever steadily rising.
WTC: My relationship with Waltonchain is long and historied. Having first bought it sub-$4 and selling it at $6 for Vechain, I bought back in even stronger and have been holding since. My riskiest move was selling it during its exceptional run up to $40, and buying back in at $33. With strong partnerships, a real, tangible product, and their low focus on marketing, I believe it is an undervalued gem. I will be holding for a very long time, and accumulating on the dips.
ETH:  I believe Ether will steal the thunder from Bitcoin in 2018 as Ethereum progresses to Proof of Stake, sequestering ETH from circulation, and driving prices up as investors clamor to buy ETH as fuel for ICOs.
NEO: A coin that keeps on giving – in the form of Gas. I bought this at $18, in the $20s, and up until the $40s. With incoming mega-hyped ICOs such as Neon Exchange, I believe there will be a use and accumulation affect similar to that of ETH. I would not be surprised to see NEO hit over $200 before the end of Q2.
Best and Worst Performing
ELIX: I randomly bought this coin at $0.05 when I first started investing. I considered it my longshot pick and forgot about it until it broke $0.50. After watching it break $2.00, I started crying inside. My small investment turned into a decent sized holding. At its peak, I gained a stupendous 4,720%. Right now, it is a cushy 1,600%. As Elixir continues to hit their milestones and improve marketing and participation, I expect them to continue their performance. Market cap is still exceptionally low and I suspect there is room for huge growth.
MIOTA: I bought into IOTA with high hopes, following the hype of other investors and their breaking news of partnerships. However, things did not pan out for them as planned and their company was fraught with claims of misinformation and sensationalism. As a result, this token sits in my bucket of one of the worst performing picks in my portfolio. I need to note that, it under-performed because I FOMO bought at $4.40. I plan on selling it when the rate or pricing is better and using the funds to accumulate more ICX. Right now, I'm losing 30% from my initial investment.
Outlook
I plan on repositioning some of my smaller holdings to accumulate more in my top 5 picks. I am especially bullish on NEO, ETH, and ICX in the short and long term. Currently, I have my sights on WAN, and will be ready to pick some up on the market release when it happens. I expect many ups and downs for 2018, but plan on coming out on top, and stronger than ever by end of year. Hey, maybe I'll even have enough for a Lambo!