December 24, 2013 was the day I used the Coinbase app and purchased a tenth of a bitcoin for the first time.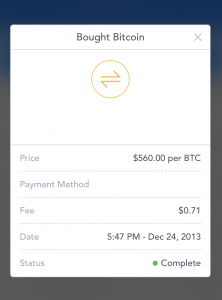 You see, I do PR for startups so a big part of my job is to be on top of the news. I clearly remember scrolling through Twitter that morning on Christmas Eve and finding out about the $25 million investment in Coinbase by Andreessen Horowitz and Union Square Ventures. Just so you know, A16z and USV are two of the smartest and most respected VC firms in the industry. If BTC and Coinbase are good enough for them, well, shit, that's more than good enough for me.
I went in with $56.71.
(Let's talk about all of our regrets in the comments below😂). 
The funny thing is, I had been exposed to several blockchain startups by then. Earlier that year, our team worked with Basno, a startup that raised $1M for a digital badges platform (on top of a $225,00 friends and family round that included Gary Vaynerchuk). Leveraging blockchain technology, Basno's CEO went on to launch Blocksign, which lets people sign legally binding documents digitally and preserve a private record of their signed document in the blockchain. This was 2014 and Blocksign was among the earliest examples of how the blockchain technology behind bitcoin can be used for more than just digital currency.
Fast forward three years and it's May 31, 2017.
What a week that was for Coinbase and bitcoin: Coinbase suffered outages while bitcoin was surging to an all-time high of $2,760.10 and the company's CEO claimed they saw 40,000 user registrations in one day.
That was enough for me to redownload the Coinbase app and check on my baby bitcoin stash: I had $276.01!!
My initial investment almost 5x'ed, so that gave me the confidence to pick up some Litecoin and Ethereum the weeks following. And I haven't looked back since.
I guess, even without knowing it, I was HODLing and I had been HODLing since 2013 when I bought bitcoin at an ATH. My portfolio currently includes all four of the currencies on Coinbase in addition to more than a dozen altcoins. 
Digital currency made sense to me, it always did.
Growing up, I played a lot of video games — from Super Mario and Sims World to World of Warcraft, Diablo and everything in between. My first job out of college was at a PR and marketing firm that focused on mobile apps. There, I played an insane amount of mobile games and worked on what I later learned was product marketing. We were evaluating and tweaking every game's onboarding experience, progression, and incentive structure. We were also looking at every game and its virtual economy. When I got home at night, I was actively participating in grinding through quests for gold coins to exchange for gear or fire mounts in a virtual world.
Why is this important? Because this was gamification, and game theory has now proliferated throughout product design, development and marketing.
Recently, I stumbled upon an article by Kevin Werbach, Wharton Professor and co-author of, For the Win: How Game Thinking Can Revolutionize Your Business. In his Medium post titled, Bitcoin is Gamification, Werbach dives into the same motivations behind blockchain and cryptocurrency:
"Fundamentally, the problem Bitcoin solves is not about money, or transactions, or the viability of nation-states. It's about distributed trust. And equally fundamentally, its solution is not about cryptography, or security, or disintermediation. It's about motivation. Those Bitcoin miners are, in a very real sense, turning the integrity of a financial system into a game. Miners are gamifying trust."
For me, working in the technology industry, being a gamer and a millennial, there was zero barrier to entry when it came to accepting the idea of digital money. In fact, it was a no-brainer.
The dollar is not tied to gold. Currency is floating. The idea of money is based solely on the trust and perceived value of a piece of paper in the eyes of its users.  
Blockchain and cryptocurrency are not the same.
Investopedia defines the blockchain as a technology being used to verify and keep track of cryptocurrency transactions without central recordkeeping. The blockchain is made of blocks that are added in chronological order as transactions are recorded. Blockchain technology is what makes it possible to create an "indelible record that cannot be changed; furthermore, the record's authenticity can be verified by the entire community using the blockchain instead of a single centralized authority."
Bitcoin, as explained by Werbach in his Medium post, is "based on a game called mining":
"To win a round of the mining game, you must be the first to validate a ten-minute "block" of Bitcoin transactions, by performing a set of computations known as a "proof-of-work." If you win, you get a reward, in the form of a few Bitcoin. As with any worthwhile game, though, winning is contingent; you're not guaranteed to succeed. You're competing against others, and exactly how long it will take to solve a proof-of-work puzzle is impossible to predict."
Blockchain technology is real. Cryptocurrency is what keeps the engines going.
Where it may all be headed.
This is headed where everything is headed: consolidation. With the volatility of the cryptocurrency market and the immense fragmentation that exists (think how many apps crypto traders have to use: Coinbase, Blockfolio, Binance, Bittrex, Gemini, Huobi, Crypto Pro, Coin Tick), it will be inevitable that three to four big players will emerge from the fray as gatekeepers for the whole market.
ICOs: companies raised more than $4 billion in 2017, a year where token sales overtook angel and seed VC funding for the first time in the United States. Today, more than 20 coins that were formed via ICOs have a combined market cap of more than one billion. However, with more regulation and seasoned investors entering the ring, we may see an overall improvement in the quality of ICO companies.
Regulation: the legitimacy of any government requires the consent of its citizens and per this "social contract," the biggest priority is to protect the people — the masses, not the select few. Cryptocurrency's rapid rise in popularity is forcing the hands of regulators to enforce accountability and transparency from exchanges, companies and other participants of the emerging crypto/blockchain ecosystem. In my opinion, regulation will only open the doors for more participants in the crypto economy, but will likely give us a few dips (buy, buy, buy) before we see the hockey stick of our dreams.
Migration: with the U.S., China and other countries banning its citizens from participating in ICOs, motivated investors will begin migrating to emerging markets to chase potential gains. South East Asia and Latin America have already become hotbeds for crypto traders and this is just the beginning.
After One Belt One Road, cryptocurrency may very well be one of the biggest redistributions of wealth in our lifetime.