I preface this post by saying that it is focused specifically on the potential socioeconomic impact of cryptocurrency — not blockchain technology. 
One of the more polarizing debates is around whether or not bitcoin and cryptocurrency may lead to a redistribution of wealth. The economic impact of cryptocurrency won't be realized in the short-term. But on a macro level, cryptocurrency will be one of the most transformative forces to hit the financial and banking systems in more than a century.
It's all about the money.
The strength of a country's economy is its currency. When the U.S. retired gold as a medium of exchange, the USD became backed by the government (as most national currencies are).
But what happens when a government collapses, a currency fails, or the stock market crashes?
When a nation's economic conditions are unstable, there could be a large-scale outflow of capital — this is called capital flight. Case in point, Investing.com reported more visits to its cryptocurrency pages than any other pages from users in nations with the worst-performing currencies [Chart 1].
Countries with a disproportionately high viewership included Venezuela, Argentina, Belarus, the U.K., and Egypt — all areas plagued with political and economic crises.
Compared to gold and USD, crypto digital assets like Bitcoin ($BTC), Ether ($ETH), Litecoin ($LTC), Ripple ($XRP), Monero ($XMR) or DASH ($DASH) are technologically-superior: 
Blockchain technology facilitates transactions independent of governments and central banks. More importantly, cryptocurrency exists without being tied to an economy, and its price determined by the supply and demand of the market across geopolitical boundaries. 
With more than 40 different currencies being supported by cryptocurrency payment companies, it's not too far-fetched to assume that people living in emerging and developing markets share the same sentiment. 
But even as Bitcoin surpassed the M1 values* of Ireland, Denmark, Singapore, and is CRUSHING the U.S. dollar, the debate remains around how bitcoin and other cryptocurrencies should be classified.
Frankly, that doesn't matter. For people who live in countries with a weak currency, it makes sense to invest their money in something more stable and readily accessible.  
Bitcoin is a far better investment for people in emerging markets with weaker currencies because of its superior Sharpe ratios (measures the returns from a given asset per unit of risk taken) to all other asset classes measured, including U.S. equities, U.S. bonds, gold, U.S. real estate, oil and other emerging market currencies.
But the argument presented by Adam White, Vice President of Business Development and Strategy at
Coinbase
, with regard to how cryptocurrencies should be classified, is that "b
itcoin should not be considered a commodity like the CFTC currently labels it. It's not property as the IRS classifies it. It's a unique asset class we're just seeing emerge right now." 
In Bitcoin: Ringing the Bell for a New Asset Class, a book co-authored by White and Chris Burniske, a blockchain analyst at ARK Investment Management, the two examined bitcoin based on four characteristics that define asset classes: investability, politico-economic features, correlation of returns or price independence, and risk-reward profile.
White and Burniske concluded that:
*  Bitcoin is the first of its kind in a distinct asset class.
*  Bitcoin can facilitate all kinds of transactions and is governed by a protocol run by a distributed network of computers, compared to fiat currencies controlled by a government's monetary policy.
*  Bitcoin's accessibility around the world should drive more liquidity than assets siloed within borders.
*  Bitcoin's price is uncorrelated to any other asset — the way that bitcoin performs has nothing to do with any other traditional asset.
*  The terms "cryptocurrency," "virtual currency" or "digital currency" are misleading because they imply that such investments are a subset of the currency asset class.
Eyes on emerging markets. 
Hot topic. Lots to debate. Let's get started.  
Do you ever wonder where all the world's money is now? Well, you're in luck, I found this gem: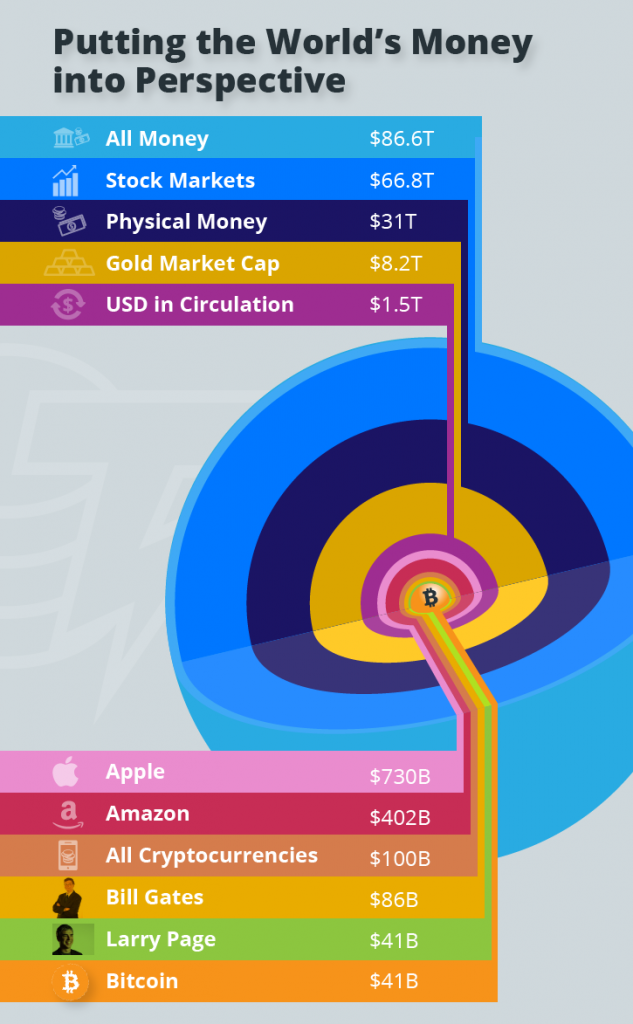 Now, ready for some predictions?🔮
PWC's 2017 report projects that by 2050, six of the seven largest economies in the world could be emerging markets:
*  The economies of Indonesia and Mexico are projected to grow larger than Japan, Germany, the UK or France.
*  Similarly, Colombia and Poland's economies have the potential to be the fastest growing large economies in their respective regions of Latin America and the EU.
*  Vietnam could have the world's fastest-growing large economy over the period to 2050, rising to 20th in the global GDP rankings by that date.
*  Turkey's economy could overtake Italy's by 2030 if it can overcome current political instability and make progress on economic reforms.
Billions of people who live in emerging markets don't have existing exchange systems — and they are primed for cryptocurrency to take the wheel. 
Without a solid economic infrastructure, countries in emerging markets are more willing to accept or adopt new monetary, payment, and financial systems. Cambridge's Global Cryptocurrency Benchmarking Study (supported by Visa, lol) surveyed cryptocurrency companies, organizations, and individuals across 38 countries. It found the following:
*  81% of wallet providers are based in North America and Europe, but only 61% of wallet users are based in these two regions.
*  53% of exchanges support national currencies other than the five global reserve currencies (USD, CNY, EUR, GBP, JPY).
*  Study participants reported cryptocurrency trading in 42 different national currencies.  
Here's a map of where most of the blockchain and cryptocurrency activities are taking place: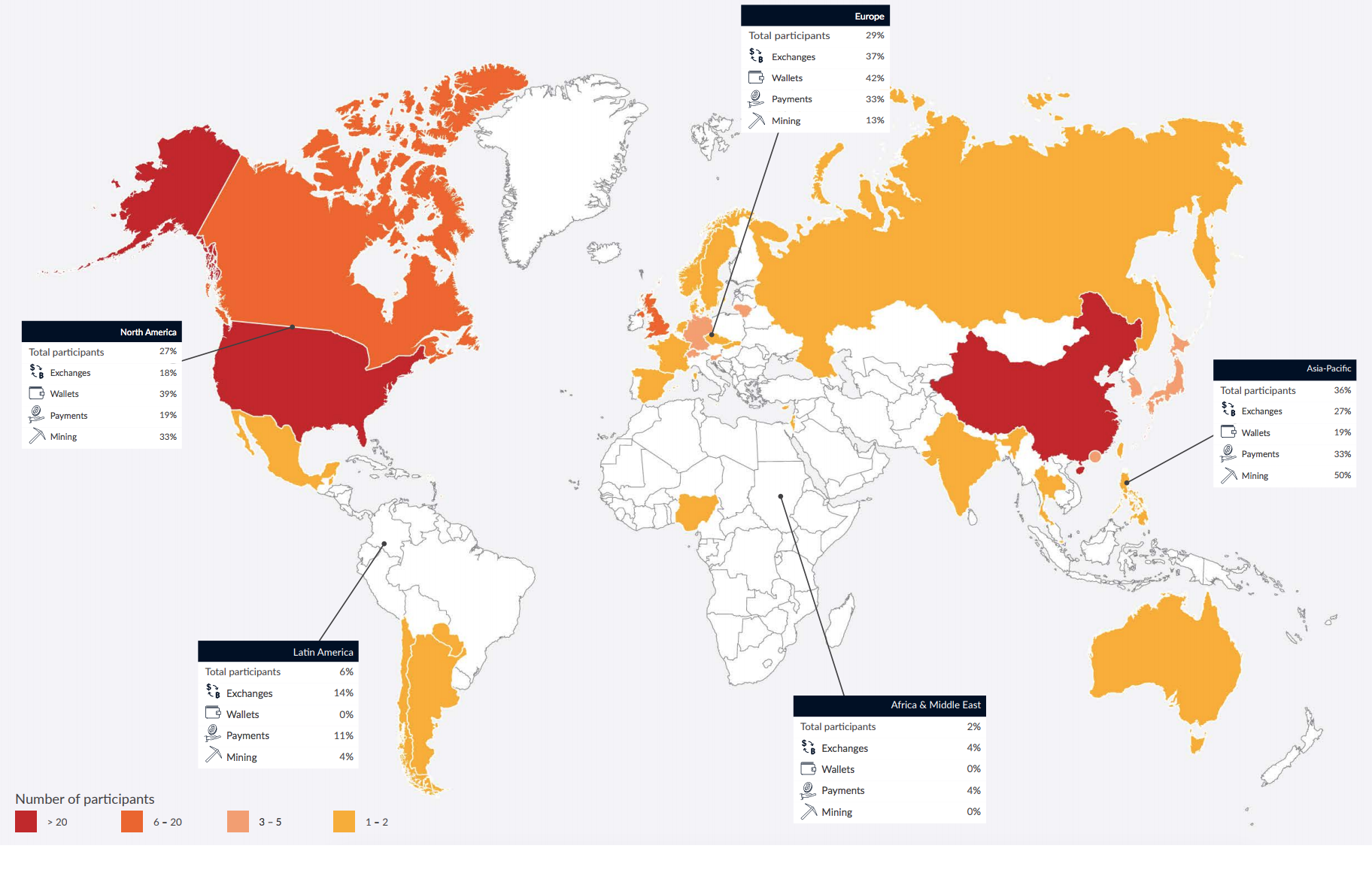 The benefits of blockchain and adoption of cryptocurrency for retail and large-value payments are clear — and the banks know it too:
*  The People's Bank of China aims to develop a nationwide digital currency based on blockchain technology;
*  The Bank of Canada and Monetary Authority of Singapore are studying its usage for interbank payment systems;
*  The Deutsche Bundesbank has developed a preliminary prototype for blockchain-based settlement of financial assets;
*  JP Morgan launched payments network using blockchain technology;
*  Bank of America filed a pair of patents for a blockchain-based system aimed to improve the tracking of file transfer processing in real time.
In addition to the allure of investing in a more stable currency, another motivation for people who live in emerging markets to adopt cryptocurrency has to do with transaction fees.

Money transfer services, like Western Union, charge 7 to 8 percent per $100 of money transferred from one country to another. This is a hefty price for migrant workers to pay when sending money home to their families.
Now take the 7 to 8 percent and compare it to 2 to 3 percent conversion fee from fiat currencies into crypto and back again and the choice becomes obvious.
The tides are turning and these things matter. 
Cryptocurrency is a catalyst for an economic boom.
Naysayers have probably said, "But, Petro!" multiple times by now — and I'm going to address it because Maduro really fucked that one up.
Brief Background: 
According to Wired, Venezuelan president Nicolás Maduro dreamt up Petro, a digital currency pegged to Venezuela's oil, gas and diamond reserves, to sidestep US sanctions and save the country from economic collapse. Venezuela's existing currency, the bolívar, was rapidly dropping in value due to decades of financial mismanagement, reducing the monthly minimum wage to just over $4.30, and plunging millions of Venezuelans into poverty. 
There are a few things wrong here, mostly, with Maduro's confusion between digital currency and cryptocurrency. 
First, cryptocurrencies can't be issued or regulated by a central authority. It also can't be tied to commodities who's distribution and prices are controlled by the government.
Richard Lapper, an expert in Latin American affairs at Chatham House, told Wired's Matthew Reynolds that, "a new currency–digital, crypto or otherwise–can't solve a country's economic policy or mismanagement thereof: Venezuela's existing currency, the bolívar, is already tied to the country's oil reserves. Yet that hasn't stopped it from losing 57 percent of its value in a month alone."
The kicker: Venezuelan citizens were already mining bitcoin to earn U.S. dollars to import food and medical supplies. 😂
It ultimately boils down to trust.
To succeed, cryptocurrencies need a lot of support (pun intended). For me, it's exciting to watch the rally when new tokens are listed on an exchange, or when bitcoin's price dips (like it did today) and media fuels market fudding and then you're up at 3:20 A.M. to watch this happen: 
While the actual number of people who've owned bitcoin is speculative, some estimate it could be anywhere between 1 million to 10 million users. If it's the latter, the crypto economy already has more participants than there are people in 60% of the world's countries. 🤔
Stirring up the perfect cryptostorm.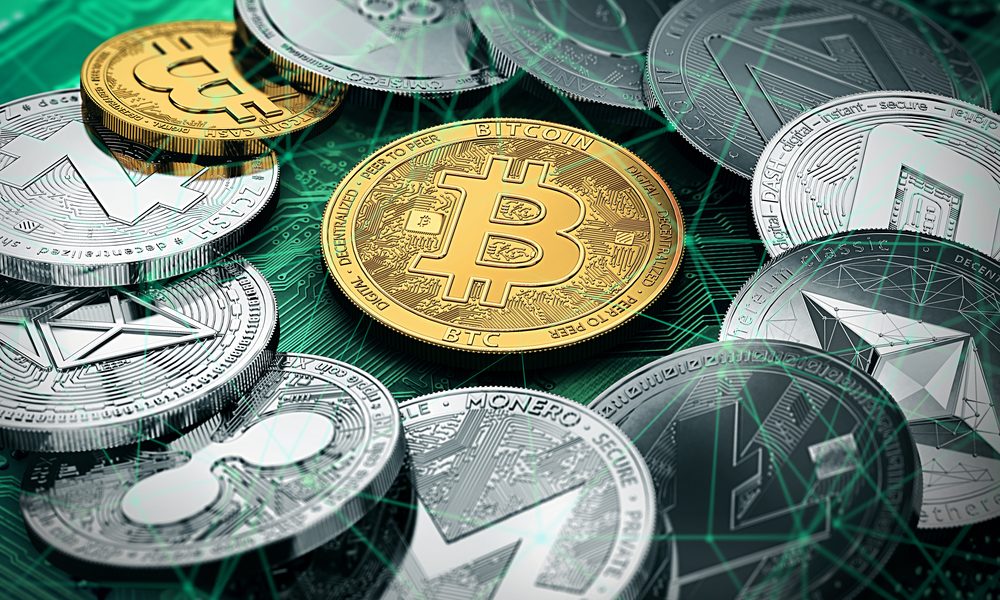 Personally, I can't wait for the first new neighborhood or city powered entirely by blockchain tech and bitcoin. And as you can tell by now, there are several strong forces driving the growth of the cryptocurrency market:
Demand: Christine Lagarde, Managing Director (MD) of the International Monetary Fund (IMF),  said, "For countries with weak institutions and unstable national currencies, rather than adopting the currency of another country—such as the U.S. dollar—some of these economies might see a growing use of virtual currencies."
Supply: As of January 2018, there are more than 1384 different cryptocurrencies. And that list continues. For investors in emerging markets, purchasing cryptocurrencies with a lower market cap and price point can result in substantial returns.
Opportunity: Cryptocurrency will inevitably power the digital economy. The internet, as we know it, wasn't built for commerce. But from online payment platforms to mobile ones, commerce is growing increasingly more digital. Using cryptocurrency as tokens of exchange between different apps and the broader ecosystem will streamline digital commerce and data transactions in a global economy. And in this scenario, early cryptocurrency investors and loyal #hodlers will reap unimaginable rewards. 
These factors, alongside other motivations I mentioned at the bottom of my previous post, may come together and send a few new emerging markets on an epic ride to the moon. 🚀🌕
___________________________________________
*M1 computes figures based on "the total quantity of currency in circulation (notes and coins) plus demand deposits denominated in the national currency, held by nonbank financial institutions, state and local governments, nonfinancial public enterprises, and the private sector of the economy."
References: 
___________________________________________